7-Day RECHARGE System
$97.00
$77.00
You Save:

$20.00 USD

(20.62%)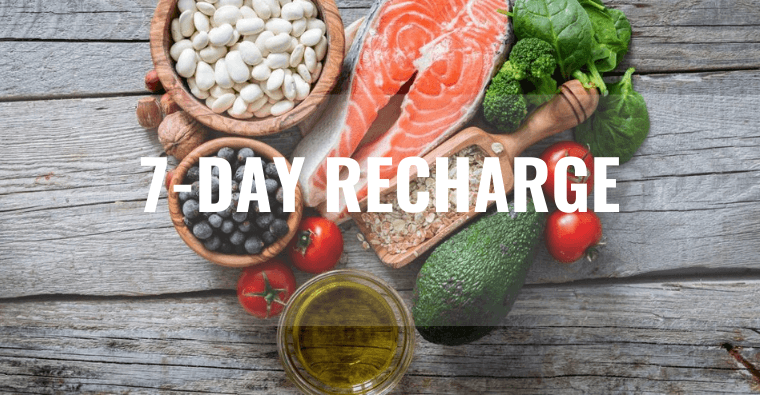 7-Day RECHARGE System
$97.00
$77.00
You Save:

$20.00 USD

(20.62%)
Product Description
Description
Revitalize & Renew in just 7 Days!
The 7-Day RECHARGE System is a 7-Day protocol that is designed to help you...
✅ Reduce Inflammation
✅ Clean out your gut
✅ Revive your cells
✅ Help you lose weight naturally
When you combine select foods & eat them in a certain sequence & time of day, these healing foods have the power to completely cleanse, deeply nourish, totally re-energize & rebalance your entire digestive system. 
With 7-Day RECHARGE you won't...
✔️ be starving
✔️ be spending all your precious time in the kitchen
✔️ have to give up entire food groups… we know what you're thinking! 

7-Day RECHARGE System will…
✅ Rev up your Metabolism
✅ Boost your Energy
✅ Clear up Mental Fog
✅ Reduce Inflammation
✅ Begin to Balance Hormones
✅ And oh yea... Drop some FAT! 💯%
*You can continue to follow it for longer than 7 days if you want serious results!
What you get with the

7-Day RECHARGE System

… 
Learn the difference between Detoxing & Cleansing (VIDEO)
Cleansing & the 7-Day RECHARGE (VIDEO)
How to do 7-Day RECHARGE along with FAQ's (VIDEO)
7-Day RECHARGE GUIDE (DOWNLOAD)
7-Day RECHARGE Example Day & Recipes (DOWNLOAD)
Giving your body a much-needed RECHARGE is easier than you think & you won't believe how great you'll feel (or maybe you already know). 
Either way... it's time to give your body this treat because it deserves it!
Shipping
Priority Processing available + FREE Shipping on orders $150 or more.
Gift Cards instantly delivered via email with instructions on how to redeem it. Programs instantly deliver you an email providing IMMEDIATE access to the program(s).