BRAIN HEALTH BUNDLE
$84.85
$74.95
You Save:

$9.90 USD

(11.67%)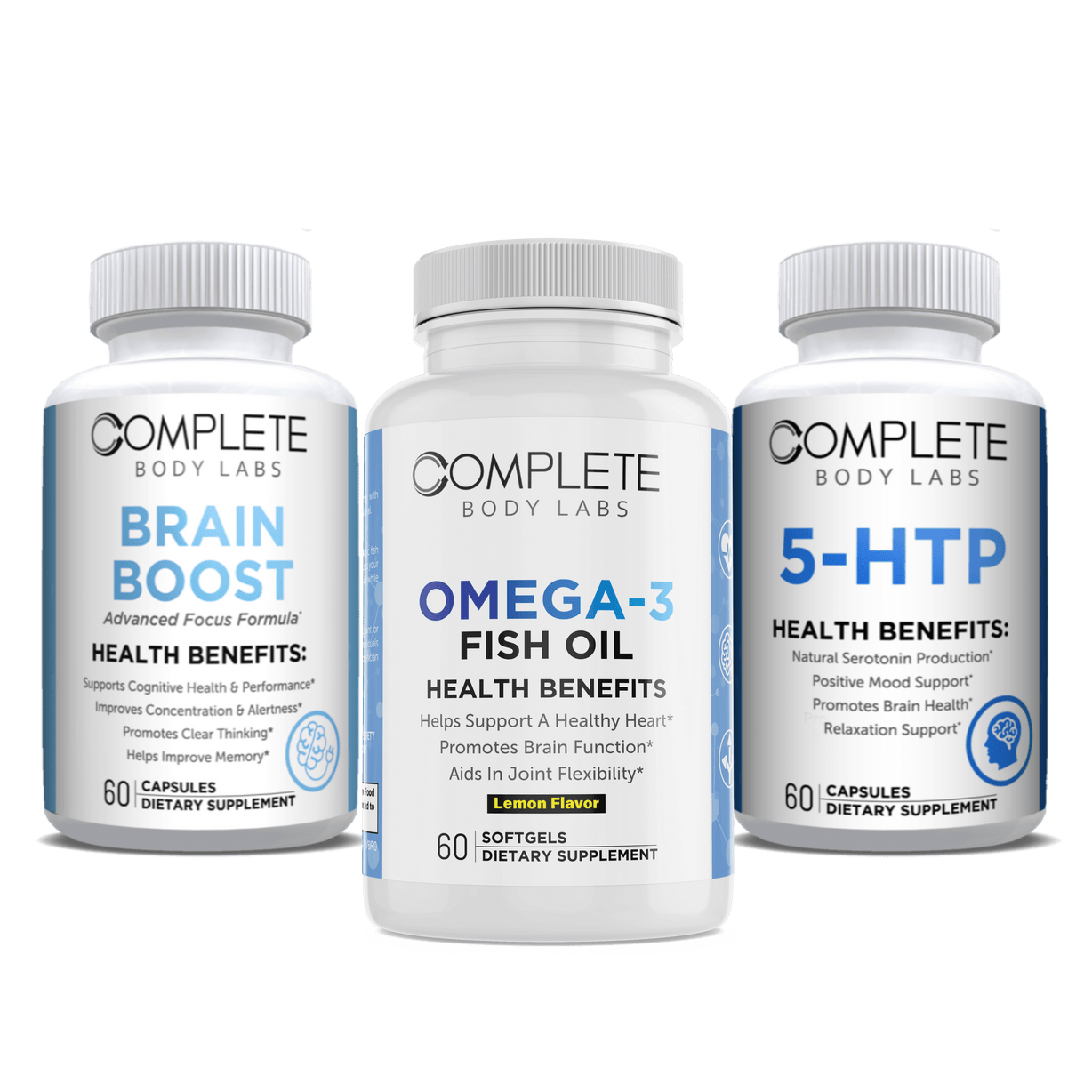 BRAIN HEALTH BUNDLE
$84.85
$74.95
You Save:

$9.90 USD

(11.67%)
Product Description
Description
Give your brain power, mood & mental alertness a boost with these three (3) amazing supplements; BRAIN BOOST, OMEGA-3 & 5-HTP. When taken daily in combination they will help improve brain health including improved memory & concentration, mood, and mental clarity by enhancing overall metabolism activity, improving cellular energy production and reducing inflammation.
Complete Body Labs BRAIN HEALTH BUNDLE contains everything you need for optimal brain health all month long.
WHAT IT'S FOR: Lifestyle has a profound impact on your brain health. Your brain health can diminish by either genetic risk, diet, routine and/or aging. When cellular energy production becomes compromised & reduced, it places bodily functions, most of all your brain, at risk for less than optimal functioning.
By taking the right action with your diet, physical activity & proper supplementation, you can help determine your mental clarity, mood, how productive you will be and over all feelings of happiness. 
7 Signs your brain needs support…
✓ Lack of Mental Clarity – An inability to think clearly or grasp a thought.
✓ Forgetfulness – You walk into a room but don't remember why.
✓ Slower Decision Making – You battle more than usual to make up your mind.
✓ Fatigue & Irritability – You feel tired & irritated all the time, despite getting adequate sleep.
✓ Low Energy – You no longer have the energy required to do daily tasks.
✓ Slowed Learning – You take longer to process & understand information.
*Your brain is very important & you have to give it what it needs to do its job!
BENEFITS OF THE SUPPLEMENTS IN THE BRAIN HEALTH BUNDLE:
BRAIN BOOST Advanced Focus Formula helps by improving mental clarity & focus, boosting intelligence levels, memory function, and increasing your level of concentration & alertness. As an added bonus, BRAIN BOOST can provide you with an increased level of energy & improved mood.
The proprietary ingredients of our BRAIN BOOST Advanced Focus Formula helps to improve the functioning of the mind and body in several ways. One ingredient, Dimethylaminoethanol (DMAE) is responsible for a wide variety of these amazing benefits. Another, L-Glutamic Acid, works to improve mental focus & concentration.
WHAT IT'S FOR: If you struggle with poor focus, mental fatigue or confusion, brain fog may be the culprit. Though not a medically recognized condition, brain fog is a common complaint. Generally speaking, brain fog is a dysfunction in your ability to focus, learn & remember.
Brain fog (or mental fog) feels different to different people. In general, people report feeling as though a fog surrounds them. It may feel as though the fog is both around you & inside your head.
COMMON SYMPTOMS: Lack of Focus, Lack of Mental Clarity, Forgetfulness, Slower Decision Making, Fatigue & Irritability, Low Energy, Slowed Learning
HEALTH BENEFITS:
 ✅ Boosts Memory Function
 ✅ Raises Intelligence Levels
 ✅ Increases Physical Energy
 ✅ Improves Mental Clarity
 ✅ Boosts Ability to Focus
 ✅ Improves Concentration
 ✅ Increases Level of Alertness
 ✅ Enhances Mood
5-HTP (5-Hydroxytryptophan) is often used to help balance serotonin levels as low serotonin levels can lead to weight gain, headaches, depression, anxiety, sleeplessness & other mood-related health concerns.   
WHAT IT'S FOR: 5-HTP (5-Hydroxytryptophan) is an amino acid that your body naturally produces. Your body uses it to produce serotonin, a chemical messenger that sends signals between your nerve cells.   
5-HTP works in the brain & central nervous system by increasing the production of the chemical serotonin. Serotonin can affect sleep, appetite, temperature, sexual behavior & pain sensation. Since 5-HTP increases the synthesis of serotonin, it is used for several diseases where serotonin is believed to play an important role including depression, insomnia, obesity & many other conditions. 
HEALTH BENEFITS: 
✅ Positive Mood Support
✅ Promotes Brain Health
✅ Relaxation Support
✅ Natural Serotonin Production
Our OMEGA-3 Fish Oil is 100% pure sea-harvested pelagic fish oil making it high in EPA & DHA. OMEGA-3 Fish Oil provides your body with the healthy fats it needs to help joint flexibility while aiding your heart, brain, nerves & visual functions.
WHAT IT'S FOR: Studies have shown omega-3 fatty acids (specifically EPD/DHA) beneficial for fetal development, improved cardiovascular health, improvements and protection of neurocognitive health as well as supporting neuronal, retinal & immune function. It has also been shown to be beneficial for weight management in women. As well as amplify the effects of resistance training by increasing muscle mass and functionality in both men & women.
HEALTH BENEFITS:
✅ Helps maintain normal cholesterol levels
✅ Helps maintain healthy blood pressure levels
✅ Helps maintain normal blood flow
✅ Helps maintain normal triglyceride levels in the blood
✅ Helps maintain healthy levels of C-reactive protein
✅ Helps aid in joint flexibility
✅ Helps enhance mood
† According to the FDA, supportive, but not conclusive, research shows that consumption of EPA & DHA omega-3 fatty acids may reduce the risk of coronary heart disease. 
Shipping
Priority Processing available + FREE Shipping on orders $150 or more.
Gift Cards instantly delivered via email with instructions on how to redeem it. Programs instantly deliver you an email providing IMMEDIATE access to the program(s).