GOOD NIGHT (Natural Sleep Aid)
$33.95
You Save:

$-33.95 USD

(100%)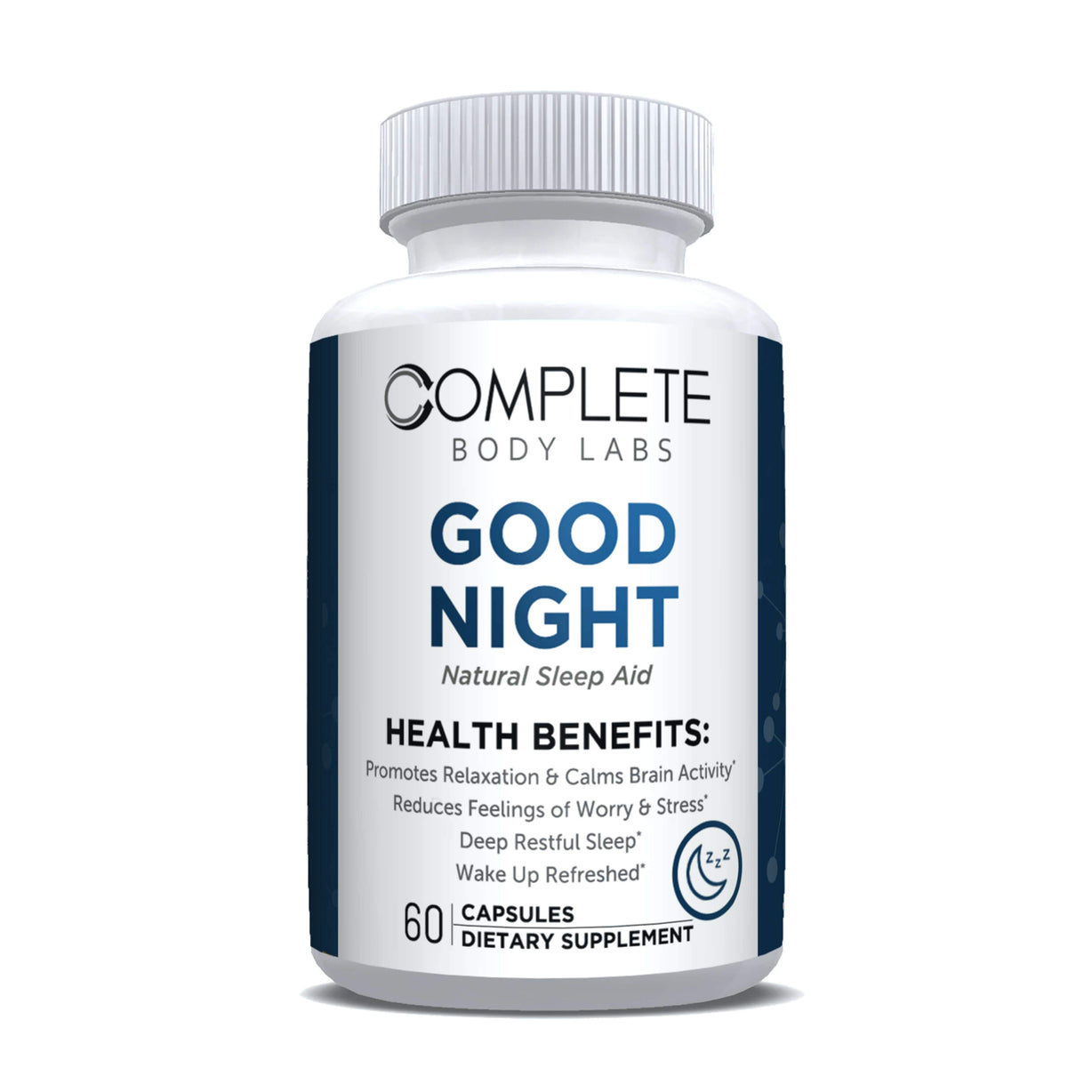 GOOD NIGHT (Natural Sleep Aid)
$33.95
You Save:

$-33.95 USD

(100%)
Product Description
Description
GOOD NIGHT Natural Sleep Aid is proprietary blend of natural ingredients that include; melatonin, chamomile and vitamin B-6. This natural blend has been formulated to aid the body in obtaining more restful sleep. When taken as directed, GOOD NIGHT can help decrease feelings of worry and stress while falling asleep and sleeping through the night.
WHAT IT'S FOR: Sleep plays a vital role in good health and well-being throughout your life. Getting enough quality sleep at the right times can help protect your mental health, physical health, quality of life, and in losing weight. The way you feel while you're awake depends in part on what happens while you're sleeping. During sleep, your body is working to support healthy brain function, repair, detoxify and maintain your physical health. Ongoing sleep deficiency can raise your risk for some chronic health problems and disease.
HEALTH BENEFITS:
 ✅ Promotes Relaxation & Calms Brain Activity
 ✅ Reduces Feelings of Worry & Stress
 ✅ Deep Restful Sleep
 ✅ Wake Up Refreshed
Shipping
Priority Processing available + FREE Shipping on orders $150 or more.
Gift Cards instantly delivered via email with instructions on how to redeem it. Programs instantly deliver you an email providing IMMEDIATE access to the program(s).
Good Night
Good Night makes a great night happen!. Sleep better than I have in years. Super product!
Great product!
I absolutely love this product! When I am stressed and have trouble calming my mind, I have difficulty falling and staying asleep. This product completely helped. I fall asleep and stay asleep. I wake up feeling rested. Thank you!
Totally Impressed!!
I can't say enough about the effectiveness of this product!! I'm often struggling to fall asleep for over an hour and usually wake up 3-4 hours into the night then struggle to get back to sleep.
Not since taking Good Night!! I'm falling asleep easily with less mind chatter and sleeping soundly all night. If I have to get up in the night to use the facilities I easily fall right back into a blissful sleep!! I'm so incredibly grateful for this product!! Thank you!!!!