PRO BLEND DIGESTIVE ENZYMES (with Probiotics)
$36.95
$34.95
You Save:

$2.00 USD

(5.41%)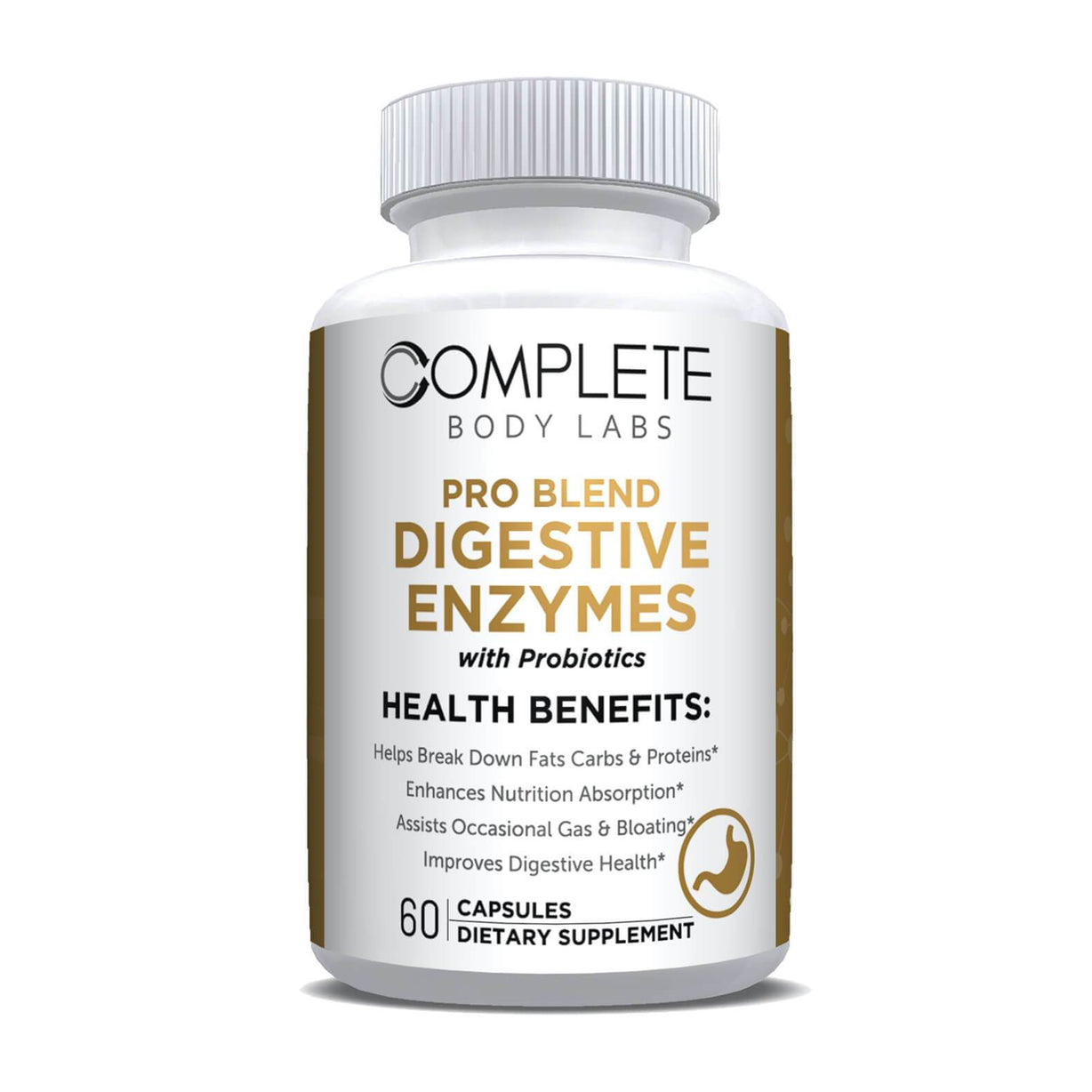 PRO BLEND DIGESTIVE ENZYMES (with Probiotics)
$36.95
$34.95
You Save:

$2.00 USD

(5.41%)
Product Description
Description
PRO BLEND DIGESTIVE ENZYMES w/ Probiotics contain a blend of enzymes that are designed to relieve gas, bloating, indigestion and constipation. Providing an effective enzyme blend, this formula helps break down food (fats, carbs & proteins including gluten) in your stomach to support the digestive process. Along with the probiotics, these enzymes will help you get the most out of your meals by helping your body absorb nutrients and enhancing your energy levels.

WHAT IT'S FOR: Each food group has specific enzymes responsible for its breakdown and a deficiency in any one of these enzymes can lead to a range of common intestinal troubles. So, for optimal digestion, it is important to consider supplementing with digestive enzymes that assist in the breakdown of all classes of food—fats, carbs and protein (especially gluten & dairy proteins).
Enzymes can give your digestive system the boost it needs to stay healthy and break down basic foods into energy and supply your body with the nutrients it needs.
HEALTH BENEFITS:
✅ Helps Break Down Fats, Carbs & Proteins (including Gluten)
✅ Enhances Nutrition Absorption
✅ Reduce Occasional Gas & Bloating
✅ Improve Digestive Health
✅ Increase Your Natural Energy
Shipping
Priority Processing available + FREE Shipping on orders $150 or more.
Gift Cards instantly delivered via email with instructions on how to redeem it. Programs instantly deliver you an email providing IMMEDIATE access to the program(s).
Already notice a difference ❤
Love these!
I'm very happy with the results I'm getting from using this excellent full spectrum digestive enzyme blend! I am no longer feeling sluggish after eating and definitely have more energy! I can eat certain foods that sometimes make me gassy with no gas or bloating discomfort at all. Total win! Thank you!!