PRO40 (Probiotics)
$34.95
$33.95
You Save:

$1.00 USD

(2.86%)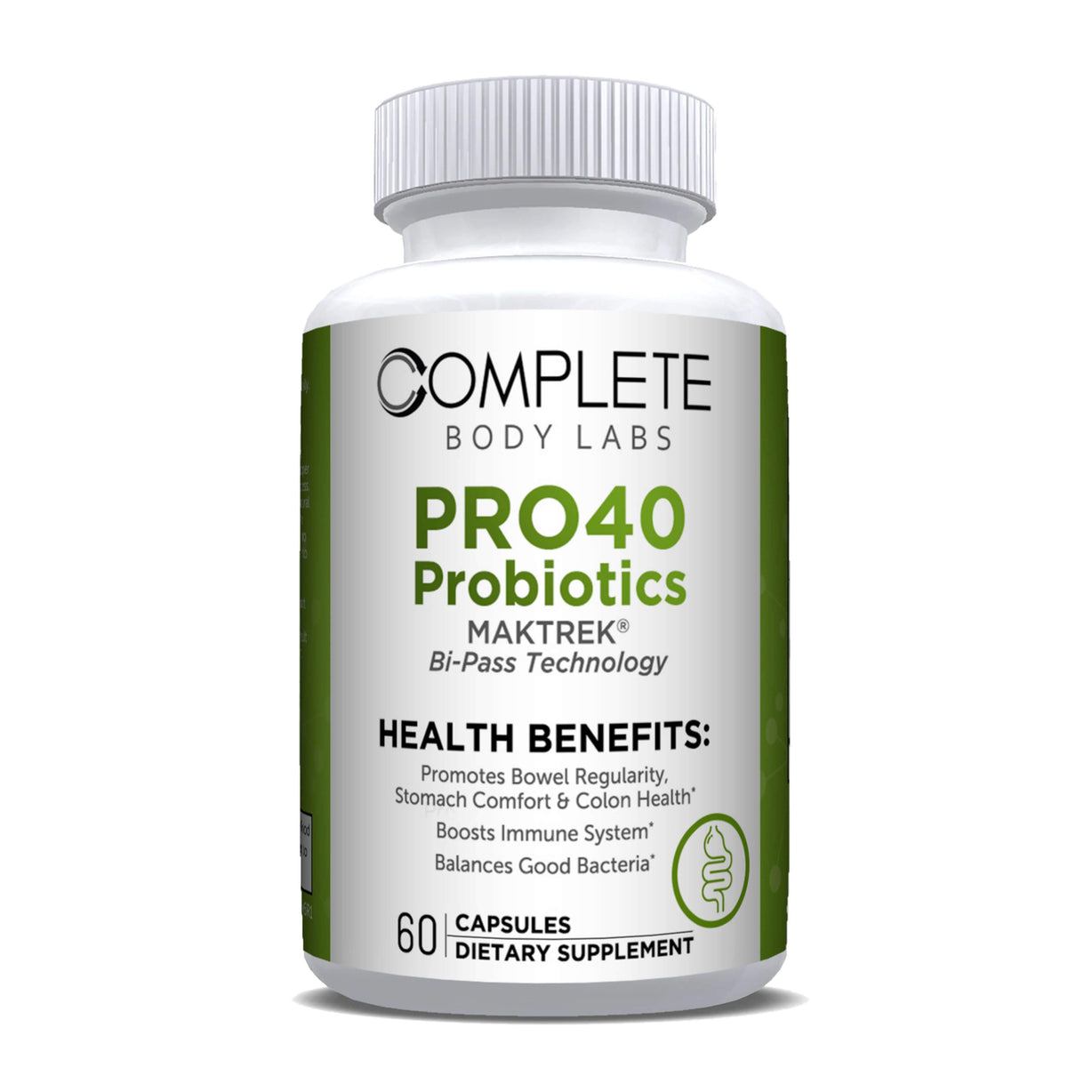 PRO40 (Probiotics)
$34.95
$33.95
You Save:

$1.00 USD

(2.86%)
Product Description
Description
PRO40 Probiotics unique, clinical strength formula contains 40 Billion live Beneficial Bacteria Cultures (CFUs) from 4 Powerful and proven probiotic strains. Your digestive system could be disruptive and may cause your GI tract to function improperly; taking a probiotic supplement on a regular basis can help you regulate your digestion and maximize your GI tract efficiency. Improved digestion allows a faster metabolic rate and allows your body to increase and maintain energy levels.
WHAT IT'S FOR: Probiotics are healthy live gut bacteria that help counter poor gut health and digestion brought on by modern day life from toxins, poor foods choices, antibiotics, medicine, alcohol & drugs. By improving your gut health, you may store less fat, utilize nutrients better, increase energy, improve general health and even lower risk for illness and disease. PRO40 uses MAKTREK Bi-Pass Technology by using natural marine polysaccharides derived from brown seaweed to keep the probiotics usable through your stomach and into your digestive tract where it can release the probiotics into your body.
Some common conditions probiotics improve are:
Irritable bowel syndrome

Inflammatory bowel disease (IBD)
Infectious diarrhea (caused by viruses, bacteria, or parasites)

Diarrhea caused by antibiotics
There is also research that shows they're useful for problems in other parts of your body such as: 
Skin conditions, like eczema

Urinary & vaginal health

Preventing allergies & colds

Oral health
HEALTH BENEFITS:
✅ Promotes Bowel Regularity
✅ Stomach Comfort & Colon Health
✅ Boost Immune System
✅ Balances Good Bacteria
✅ Supports Weight Loss by Accelerating Fat Loss
Shipping
Priority Processing available + FREE Shipping on orders $150 or more.
Gift Cards instantly delivered via email with instructions on how to redeem it. Programs instantly deliver you an email providing IMMEDIATE access to the program(s).
Best probiotic !
Over the years I have tried numerous probiotics Many have had harsh side effects and left me feeling miserable.
For the first time, I've finally found a product that delivers reliable results without uncomfortable side effects.
Pro40 is a great product and I highly recommend it!