ULTRA STRENGTH TURMERIC +
$31.95
You Save:

$-31.95 USD

(100%)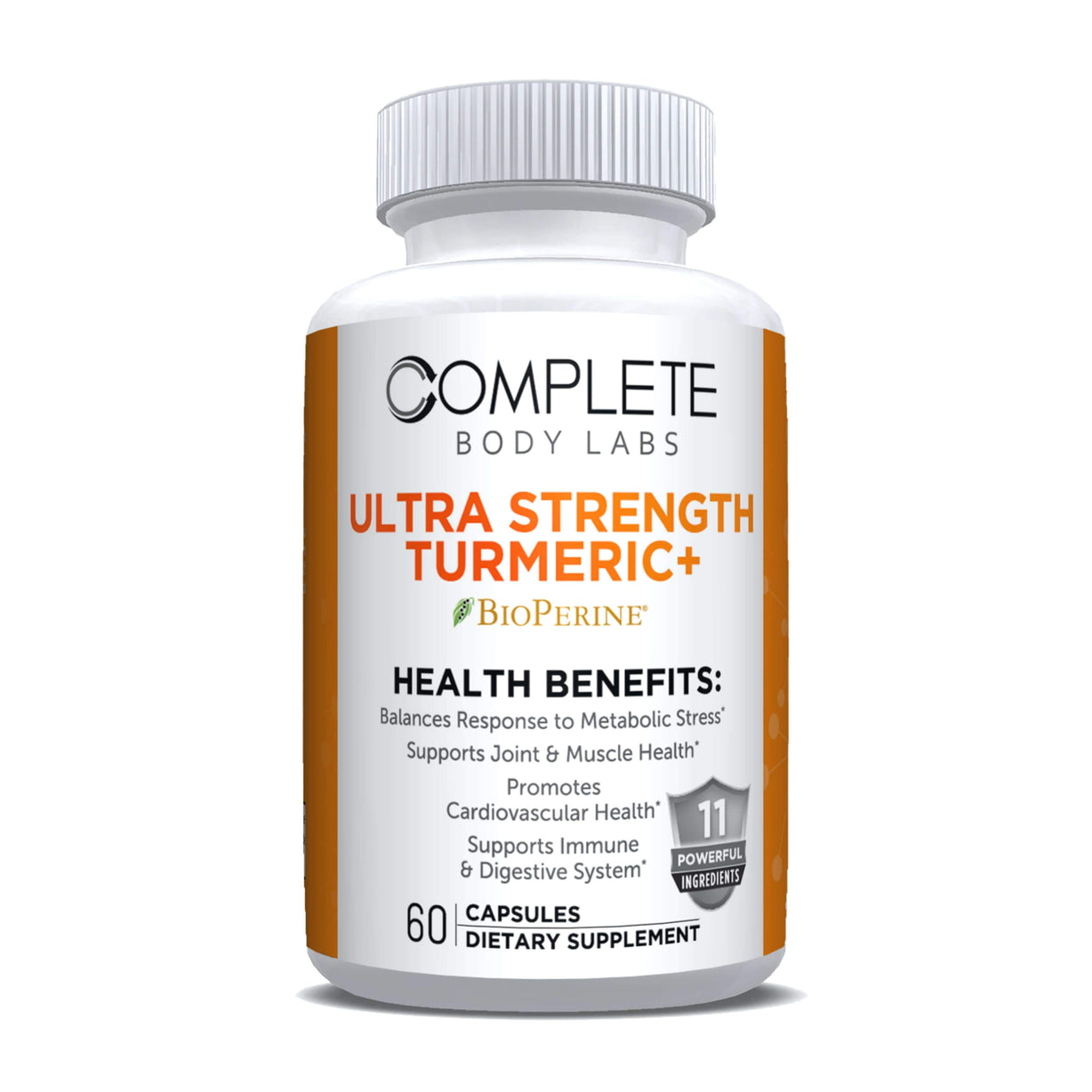 ULTRA STRENGTH TURMERIC +
$31.95
You Save:

$-31.95 USD

(100%)
Product Description
Description
ULTRA STRENGTH TURMERIC + is a power packed formula that you & your body will not want to miss out on. Complete Body Labs proprietary formula with added BioPerine (to increase bioavailability & ensure nutrient absorption) includes a double dose of turmeric with both turmeric root & turmeric extract along with boswellia extract (also known as Frankincense) among many other ingredients that support joints, reduce inflammation & a healthy metabolic response. 
WHAT IT'S FOR: Turmeric (Curcuma longa), the bright yellow spice used throughout Asia for centuries, has in recent decades been embraced by the West, not just for its ability to satisfy our appetite for curry, but for its impressive list of health benefits. Grown for its root, turmeric has an ancient history of uses in cooking, fabric dyeing, cosmetics & traditional medicine in China and India.
It is been used in Ayurvedic medicine which is one of the world's oldest medical systems & remains India's traditional health care system today. Recently, science has started to back up what Indiana has known for a long time — it really does contain compounds with medicinal properties. 
HEALTH BENEFITS: 
✅ Balances Response to Metabolic Stress
✅ Natural Anti-Inflammatory
✅ Supports Joint & Muscle Health
✅ Promotes Cardiovascular Health 
✅ Supports Immune & Digestive System
Shipping
Priority Processing available + FREE Shipping on orders $150 or more.
Gift Cards instantly delivered via email with instructions on how to redeem it. Programs instantly deliver you an email providing IMMEDIATE access to the program(s).
Ultra strength turmeric
Helps with my inflammation, I need to take 2 a day.this product is very impressive for my inflammation.
Ultra Strength Tumeric
Very good results so far, it helps with my joints during the day. I don't have to rely on Ibuprofen like I do when taking it for my Chronic Lymes Disease. My joints are becoming less stiff during the day, which makes doing everyday tasks easier. Very high quality ingredients and better for you at a good price. Thanks Complete Body Labs and Lydia and Ryan!
ULTRA STRENGTH TURMERIC WORKS
I have never taken Turmeric in a supplement and was pleasantly surprised at the immediate results beginning after my first dose. I was getting inflammation from my workouts and had relief right away. I definitely recommend this product.