HORNY GOAT WEED EXTRACT PLUS
$27.95
You Save:

$-27.95 USD

(100%)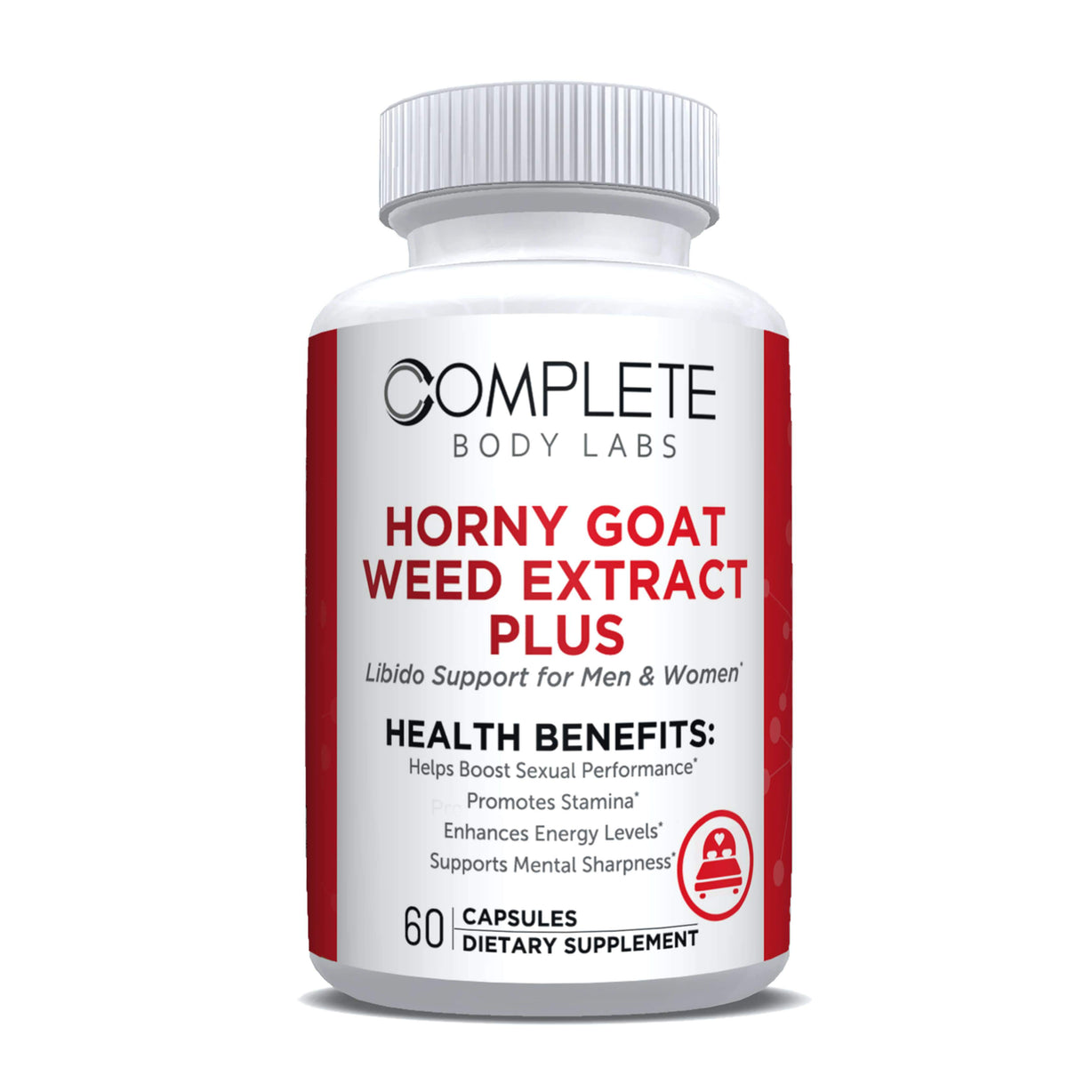 HORNY GOAT WEED EXTRACT PLUS
$27.95
You Save:

$-27.95 USD

(100%)
Product Description
Description
Rekindle your passion, desire & vigor as you regain the youthful drive you once had. HORNY GOAT WEED EXTRACT PLUS was formulated is a natural aphrodisiac to enhance sexual performance in both men & women. 
Horny Goat Weed is a plant that contains high levels of Icariin. This natural herb is a type of flavonoid that boosts energy, performance & stamina while intensifying sensations.
Our formula is infused with pure & potent enhancers providing the perfect synergy of Horny Goat Weed Extracts & other herbal energy boosters like Maca, Tongkat Ali, Panax Ginseng, L-Arginine, Saw Palmetto, L-Arginine & other unique ingredients that work together to give our Goat Weed a powerful punch.
Complete Body Labs HORNY GOAT WEED EXTRACT PLUS is a balanced herbal supplement designed to awaken your inner vitality, healthy blood flow, relax muscles enhance stamina, endurance & mental alertness. Enjoy it to get your day perked up, to improve your workout, or positively affect what happens in private.
*Perfect for both men & women 
WHAT IT'S FOR: Horny goat weed is a traditional Chinese medicinal herb. It is also known by its many botanical names, including Epimedium, & its Chinese name, yin yang huo.
Horny goat weed contains chemicals which might help increase blood flow & improve sexual function. It also contains phytoestrogens, chemicals that act somewhat like the female hormone estrogen. It is also used for weak back & knees, joint pain, arthritis, mental & physical fatigue and memory loss along with many other conditions.
HEALTH BENEFITS:
 ✅ Helps Boost Sexual Performance
 ✅ Promotes Stamina
 ✅ Enhances Energy Levels
 ✅ Supports Mental Sharpness
 ✅ Increases Blood Flow
Shipping
Priority Processing available + FREE Shipping on orders $150 or more.
Gift Cards instantly delivered via email with instructions on how to redeem it. Programs instantly deliver you an email providing IMMEDIATE access to the program(s).