APPLE CIDER VINEGAR GUMMIES
$27.95
You Save:

$-27.95 USD

(100%)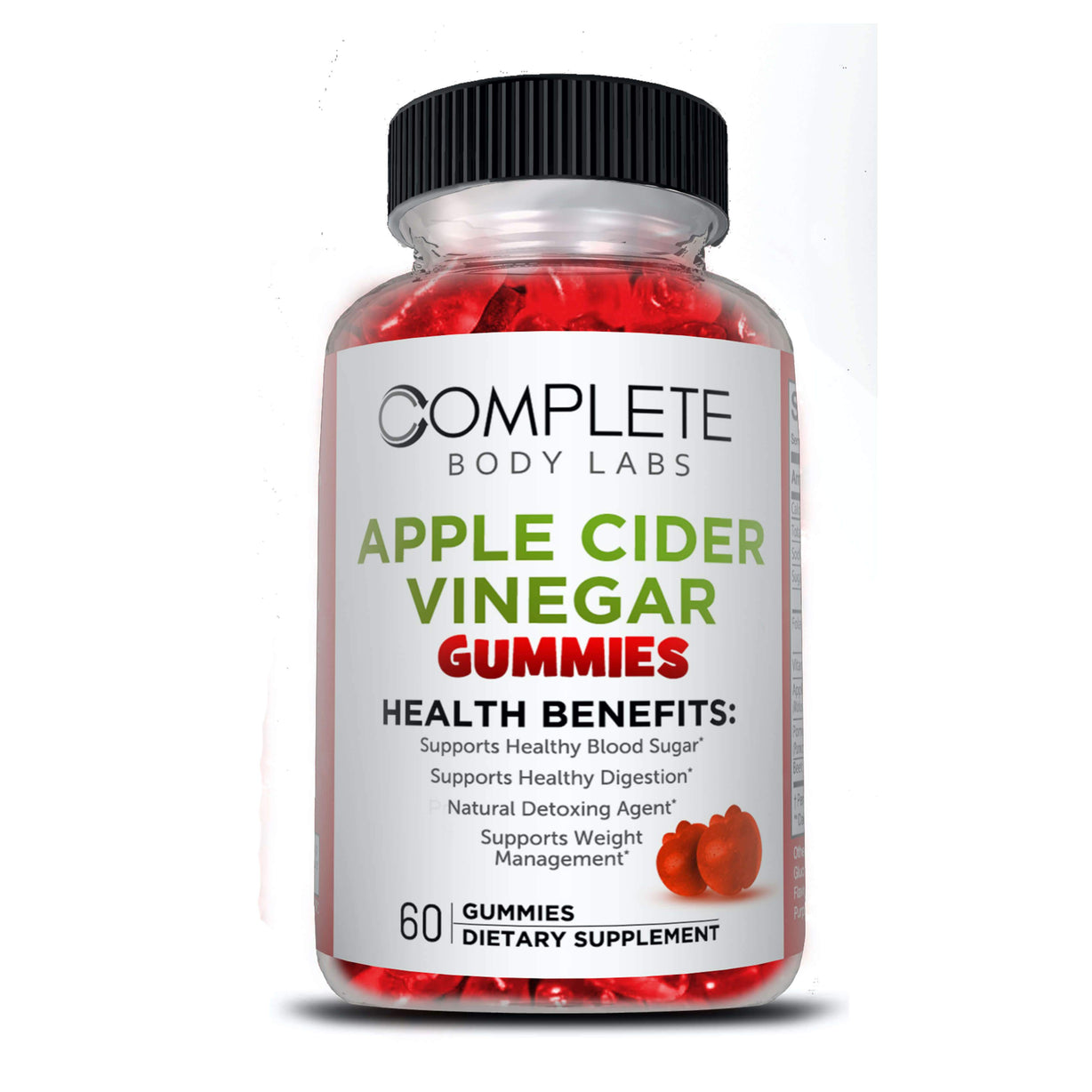 APPLE CIDER VINEGAR GUMMIES
$27.95
You Save:

$-27.95 USD

(100%)
Product Description
Description
Complete Body Labs APPLE CIDER VINEGAR GUMMIES allow you to enjoy the power & benefits from Apple Cider Vinegar without having to deal with the harsh taste!  Instead, these GUMMIES are delicious! Apples are some of the most ancient fruits & known as one of healthiest fruits to consume. They are loaded with powerful antioxidants including quercetin, catechins, phlorizin & chlorogenic acids that protect your body & support health.
WHAT IT'S FOR: APPLE CIDER VINEGAR is a popular home remedy. It's been used for centuries in cooking & medicine. The ancient Greeks treated wounds with it. APPLE CIDER VINEGAR has various healthful properties, including antimicrobial & antioxidant effects. What's more, evidence suggests it may offer health benefits, such as aiding weight loss, preventing fungal overgrowth, reducing cholesterol, lowering blood sugar levels & improving the symptoms of diabetes.
APPLE CIDER VINEGAR is made by fermenting apples, sugar & yeast. This turns them into acetic acid, which is the main active ingredients in vinegar & believed to be responsible for all its health benefits.
HEALTH BENEFITS:
✅ Supports Healthy Blood Glucose
✅ Supports Healthy Digestion
✅ Natural Detoxing Agent
✅ Support Weight Management
Shipping
Priority Processing available + FREE Shipping on orders $150 or more.
Gift Cards instantly delivered via email with instructions on how to redeem it. Programs instantly deliver you an email providing IMMEDIATE access to the program(s).
These are amazing!
I love the taste. I highly recommend these. Great product.
Apple cider vinegar gummies
I love the taste, and they completely help with stomach acid, I can't be without theses.
Excellent product.
This is the second time I've ordered this product. It's effective and tastes good.
Apple Cider Gummies
My husband suffers w acid reflux and gerd. He enjoys the taste of these gummies, but they have not improved his condition in any notable way.