BALANCE (Cortisol Support Formula)
$49.95
$39.95
You Save:

$10.00 USD

(20.02%)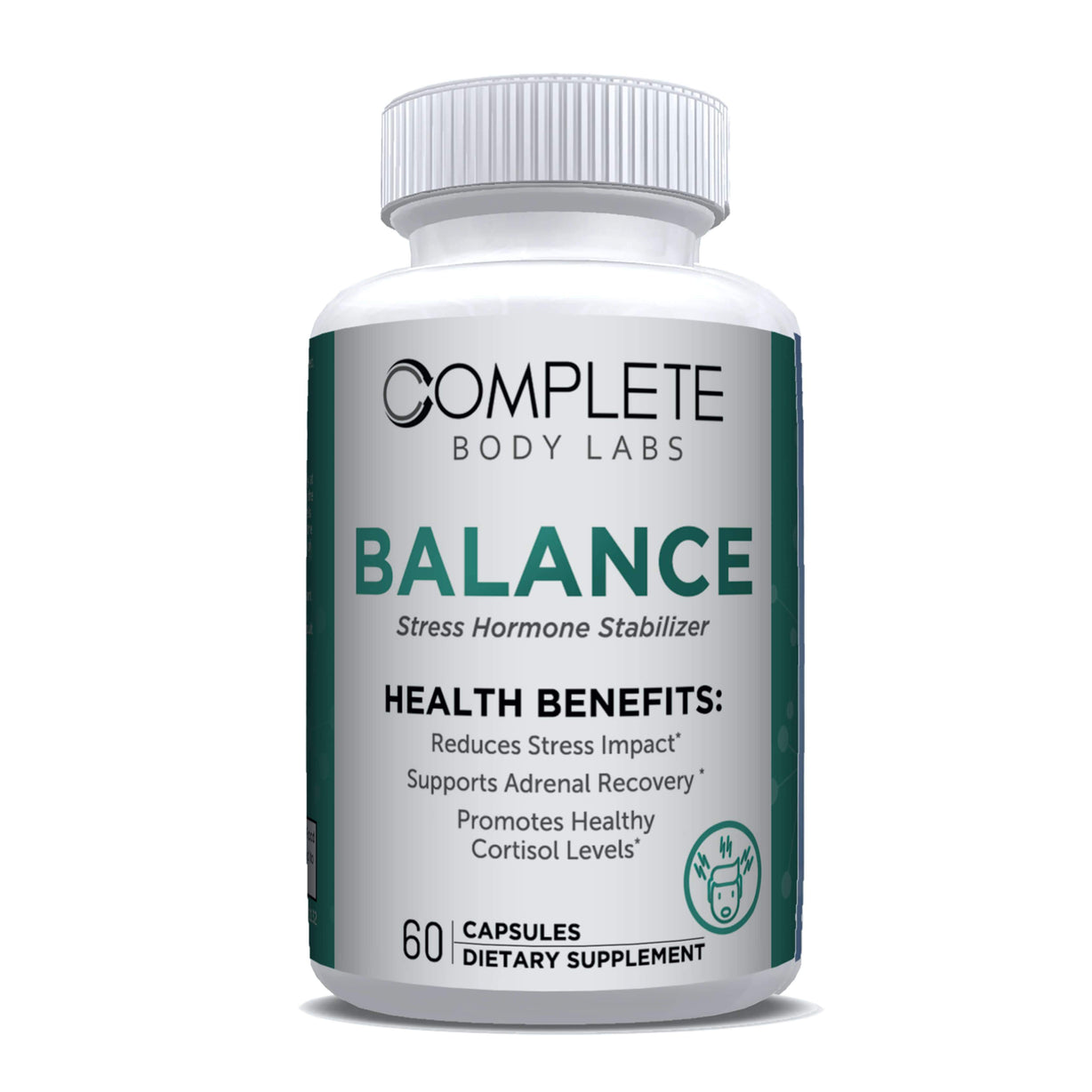 BALANCE (Cortisol Support Formula)
$49.95
$39.95
You Save:

$10.00 USD

(20.02%)
Product Description
Description
BALANCE Cortisol Support Formula has been formulated with stress-reducing ingredients & botanicals to promote relaxation, help alleviate fatigue & support healthy cortisol levels. We live in a stress-filled society, and while we can tell ourselves that stress is "just a part of life", our bodies don't lie. They feel the effects of stress.
WHAT IT'S FOR: When stress happens, cortisol levels rise to give you a surge of energy to help escape "danger". This hormonal response doesn't distinguish between good stress (a challenge at work) & bad stress (unemployment). With any stress, cortisol raises your blood sugar & blood pressure while lowering immune system response. Keeping blood cortisol levels in balance is an important part of feeling good, staying healthy & managing weight. Too much cortisol prompts the body to store fuel in the form of fat, breaks down muscle & compromises your immune system.
Your body typically responds to stress in three primary stages:
When your body is alarmed

When your body tries to fight off stress
When your body is exhausted & just doesn't have the fight left in it to deal normally with stress
✶ You are at risk for a weak immune system & adrenal fatigue when your body reaches the final stages of stress.
HEALTH BENEFITS:
  ✅ Supports Relaxation
  ✅ Support Energy Levels
  ✅ Supports Healthy Cortisol levels
  ✅ Helps Alleviate Fatigue
  ✅ Supports Adrenal Health
  ✅ Reduces Stress Impact
  ✅ Supports Improved Sleep
  ✅ May Aid in Weight Loss
Shipping
Priority Processing available + FREE Shipping on orders $150 or more.
Gift Cards instantly delivered via email with instructions on how to redeem it. Programs instantly deliver you an email providing IMMEDIATE access to the program(s).
Balance is essential
I bought these for my teenage daughter. She swears by them for helping keep her stress levels down. It's senior year and with that comes a lot of stress! We won't be without balance!!
THE BEST LIFE HACK TO alleviate stress
As the owner of a thriving business, that has other partnerships, a healthy marriage, kids with very busy schedules...along with several other "hats"that my husband and I have to wear in our lives, it should come as no surprise that we have to have life hacks to deal with high levels of stress and/ or fatigue. This product is a must and our absolute go to ... my husband and I use it daily and it brings about a calm to just about any situation (in a very short time frame). Every parent, business owner, high performing professional, etc should keep this close by.
I am truly thankful for this product and how it produces results every single time.
Who doesn't need some balance?
So happy it's back!!!! I've used this product to support my adrenals and cortisol issues. It helped me get my hormones back under control. I also add a little extra in times of high stress. I wouldn't go with out it!