Lemon Meringue REFUEL BARS - (10 count)
$34.95
$29.95
You Save:

$5.00 USD

(14.31%)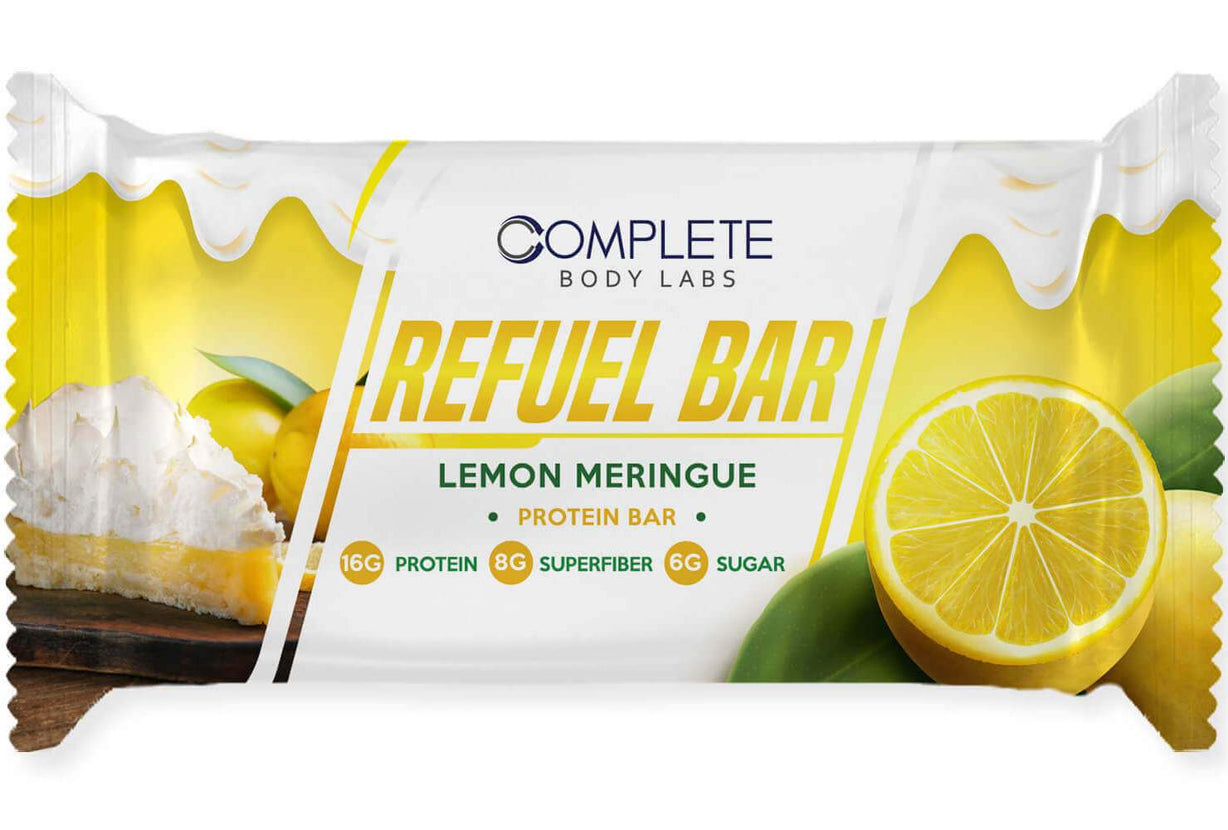 Lemon Meringue REFUEL BARS - (10 count)
$34.95
$29.95
You Save:

$5.00 USD

(14.31%)
Product Description
Description
There's nothing like Grandma's Classic… a perfectly sweet, fresh & slightly tart Lemon Meringue pie.
… Imagine having that daily WITHOUT the calories, the sugar or the guilt!
Our Lemon Meringue REFUEL BARS are incredible tasting protein bars that are produced at our award-winning manufacturing facility… what we like to call "The Bakery", where they are cold pressed (not baked) in order to preserve the taste and quality using triple filtered water free of contamination, pesticides & toxins. 
WHAT THEY'RE FOR: Lemon Meringue REFUEL BARS are a delicious guilt free snack with an exceptional macronutrient breakdown. They are incredibly filling due to the fiber used in them. They only add 160 calories to your total calories for the day so having one either between meals or at the end of the evening can easily fit into your caloric needs.
They check a lot of excellent boxes! ✓
Cold Pressed (Not Baked): High heat can diminish, or even destroy, the nutritional contents of certain ingredients. By cold pressing our REFUEL BARS there is zero risk of losing any of its nutritional value during the production process.   
Great Source of Fiber: This means it is more effective in regulating blood sugar, healthy insulin levels, cholesterol, aiding in digestion as well as creating the feeling of satiety.
Macronutrient Balanced: Exceptional combination of protein, carbohydrates and fat which helps produce sustainable energy and satiety. Properly balanced to reduce the glycemic impact.
Functional Food: Functional foods are foods that contain vitamins, minerals, dietary fiber and other beneficial substances that have a potentially positive effect on health beyond basic nutrition. Functional foods promote optimal health and help reduce the risk of disease.
Organic Vegetable Blend: (Kale, Beet, Broccoli & Carrot)  
OTHER BENEFITS: 
| | |
| --- | --- |
| ✅ 16g Protein (Whey Crisps) | ❌ NO GMO Ingredients |
| ✅  Gluten Free | ❌ NO Sucralose  |
| ✅  K-Dairy | ❌ NO Preservatives |
| ✅  Low Glycemic | ❌ NO Trans Fats or Hydrogenated Oils   |
WHAT THEY DO:
✅ Satisfies Sweet Tooth
✅ Curbs Hunger Pangs
✅ Supports Energy & Strength
✅ Supports Healthy Nutrition Intake
✅ Supports Healthy Weight Loss
Shipping
Priority Processing available + FREE Shipping on orders $150 or more.
Gift Cards instantly delivered via email with instructions on how to redeem it. Programs instantly deliver you an email providing IMMEDIATE access to the program(s).
My Picky Mom Loves The Lemon
My mom is one of the most picky eaters I know! Trying to get a healthy and delicious macro balance in is a challenge for her and man oh man, the Lemon Meringue bars are the ticket! It's so easy to remove sweets from the pantry now. I've replaced the junk food with Refuel Bars. Everyone is happy!
Fresh New Taste ♥️
When you just need something sweet but not chocolate, these bars are awesomeness! They are balanced. Not to much sugar and hit the spot. I love all the refuel bars. If you haven't tried yet, you must. Best bar around!
Satisfying
Really enjoys these! Great lemon flavor!
Been using them as occasional meal replacement and they've done well. Thank you !
Awesome
I will have to order more, I'm too generous lol lol sharing them with others. These are my favorite!!!
Amazing!!
Lemon is now my new favorite flavor! Great taste and great for right after workouts!